Dear Future Customer,
When your need repair or you are looking for a new unit, it is important you find a company that does everything. Quick Appliance Service has licenses in: Appliances, Refrigeration, Heating, Air Conditioning and Water Heaters. Our broad ranges of services allow us to establish on-going relationships with our customers.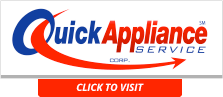 Since we are locally owned we can usually provide same day service (occasionally following day), or by appointment. Our technicians will arrive within a one hour appointment window.
It is easy to set up an account with us; we currently provide services to:
Owners
Property Managers
Real Estate
Restaurants
Schools
Landlords
Businesses
Churches
We offer the following services:
REPAIRS
REPLACEMENTS
INSTALLATIONS
SALES
MAINTENANCE
SERVICE AGREEMENTS
Our Fees
Residential
Service Call $45*Free with repair
Commercial
Service Call $90*Free with repair
The trip charge for Residential is $45 and Commercial is $90. We charge per job not per hour. After we inspect your unit, we will give you the estimate for the service needed. If you accept the estimate we will waive the trip charge. We provide a written warranty for all work.
Warranties
QASC Warranty
1 Year*Parts & Labor
New Units
Factory Warranty*Owner's Manual
The technician will call you before arriving on your premises. Please give your best contact number to our receptionist.
Our technicians work on Residential and Commercial. We have the training to work on all makes and models of Heating and Air Conditioning.
Our technicians give the option to repair, replace or sometimes to upgrade your system. It does not matter which brand is currently in or who installed it. Before you approve the service to be performed, the technician will discuss options. If your unit is new, we will repair it; but if your unit is over 20 years old, we may recommend that you buy new equipment. This will help in your comfort and safety, and of course you will not be paying every year to repair an old unit.
We install the following brands:
Bryant (Furnaces and Air Conditioning)
Comfort-Air (Ductless Mini-Split Systems)
Rheem and State (Tank water heaters)
Takagy and Noritz (Tankless water heaters)
New Installations
New Home or Upgrades
Furnace
Indoor Unit (Evaporator)
Line Sets
Outdoor Unit (Condenser)
Exhaust vent
Ducts
Registers
Gas lines
Electrical
Approx. Time
New Furnace
Furnace
Exhaust vent
Ducts
Registers
Gas lines
Electrical
Approx. Time
Add New A/C
Indoor Unit (Evaporator)
Line Sets
Outdoor Unit (Condenser)
Electrical
*Using existing furnace & ducts
Approx. Time
New Evaporative Cooler
Swamp cooler
Grills
Ducts
Thermostat
Approx. Time
Replacements
Heating & A/C
Furnace
Indoor Unit (Evaporator)
Line Sets
Outdoor Unit (Condenser)
*Using existing ducts
Approx. Time
Heating
Furnace
*Using existing ducts
*No A/C existing
Approx. Time
Air Conditioning
Indoor Unit (Evaporator)
Line Sets
Outdoor Unit (Condenser)
*Using existing furnace
*Using existing ducts
Approx. Time
Ducts
Flexible or rigid galvanized
Approx. Time
Swamp Cooler
Evaporative
Thermostat
*Using existing ducts & grills
Approx. Time
While we repair all brands, we specialize in Bryant and are a Bryant dealer. This specialization allows us to be familiar with their entire product line. We have access to technical information through technical support, and receive training regarding updates in the new systems. We have a local distributor, and get units and parts quickly.
We sell the following:
FURNACES: 80% and 90% plus efficiency
AIR CONDITIONERS: 13 SEERS and up efficiency, refrigerant R410A (we no longer sell units with R22).
WATER HEATERS: Tank and Tankless
Maintenance is the key for maximum efficiency. Performing routine maintenance keeps units in the best possible condition and prolongs the life of your unit. Units serviced once a year will work efficiently, last longer and have fewer breakdowns.
Maintenance can be needed at other times. After a remodel/ upgrade such as polishing floors, painting, or adding an extra room, dust goes to the furnace/ air conditioner filter/ refrigerator condenser, etc.
A trade professional is recommended to do the maintenance. See our photos below, which show the difference between a unit which has been maintained and one which has never been serviced. Call us to perform the maintenance.
We offer both emergency service and service maintenance.
The goal of our emergency service is to fix your problem immediately. We attempt to provide same day service. Depending on our schedule, we may need to schedule following day service.
With our established customers, we arrange a convenient service maintenance schedule. Further, if your unit breaks, you will receive priority and a technician will be sent the same day.
For continuing high performance and to minimize possible equipment failure, periodic service must be performed on your units.
We have one year, two year and three year service agreements available. You will save money when you sign up for three years and your will have peace of mind knowing a professional will be servicing your equipment yearly.
We do service agreements on: Heating, Air Conditioning, Dryers, Refrigeration and Swamp Coolers. You can choose from the following packages:
Package 1
Furnace
Air Conditioning
Refrigerator
Dryer
Package 2
Furnace
Refrigerator
Dryer
Project Schedule
Some jobs take more time than others, depending on the size of the project, and size of the home. After inspection, we give an accurate time schedule frame. We finish projects on time and will not leave until the project is complete.
Thank you in advance for looking at my company website. I am happy to answer any questions during a scheduled inspection.
Air Conditioning and Heating Service for: Santa Clara, San Jose, Milpitas, Los Altos, Palo Alto and Hillsborough