Contact

Quick Heating Cooling
Make an Appointment
Appointment Request Form
Fill in this form, and we will call you to confirm the time.
---
Call
Local: (408) 567-8079
(650) 340-7929
Toll Free: 1 (877) 96-QUICK
Email
Visit
1900 Lafayette St., Suite #235
Santa Clara, CA 95050-3992
View Map
Certifications
Our technicians have passed the HVAC Technicians Certification Exams. All technicians have their own IDs. Customers are welcome to ask technicians to show their credentials.
Owner's professional information: Profile, Certifications, Licenses and Memberships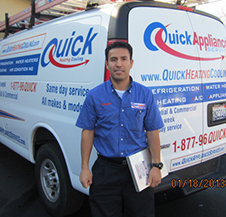 PROSPERO CABRERA (RMO)
My interest in appliances and the HVAC-R business comes from my family history. I worked with my brothers, and wanted to have a better foundation and understanding of HVAC. I attended a technical school for residential and commercial equipment. I gained enough knowledge and experience to open my own business through the Bureau of Electronic and Appliance Repair under the name Quick Appliance Repair. In 2006, I incorporated with the name Quick Appliance Service Corporation. Currently I am a California contractor under the classification of Heating and Air conditioning "C20" and Refrigeration classification "C38"; license #954931. This license allows me to work in heating, ventilation, air conditioning and refrigeration. I service residential appliances, and specialize in heating, air conditioning and refrigeration.
It is important to keep abreast of changes within the industry. Therefore, I attend training and conventions to remain current.
Graduated Trade School - WyoTech
Environmental Protection Agency (EPA)
North American Technician Excellence (NATE)
California Contractor State License Board (CSLB)
Air Conditioning Contractors of America (ACCA)
Better Business Bureau (BBB)
Employment
Quick Appliance Service Corporation is always interested in discussing employment opportunities with outstanding home service professionals who want to contribute to our reputation and growth. All employees have to pass alcohol and drug tests and background check.
Applications must have:
Trade School (Certification or Diploma)
EPA Section 608 (Universal)
ICE
R410A
PM
Indoor Air Quality
NATE
Available Positions