Welcome to

Quick Heating Cooling
Our History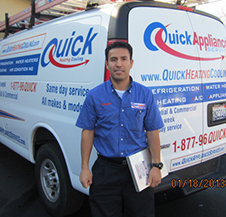 My name is Prospero Cabrera. I am the founder of Quick Appliance Service Corporation (QASC), the Responsible Manager Officer (RMO) and a California contractor. My interest in the HVAC-R trade began with my first job, working for my brother's company, fixing appliances. Since then have earned my certifications and have continued taking classes to keep up on new technology.
QASC is committed to and takes great pride in providing top quality service. We will deliver the best care to your Appliances, Heating, Air Conditioning, Ventilation, Refrigeration, Wine Coolers, Evaporative Coolers and Water Heaters. This is our website site:
QASC is locally owned and has been doing business since 1998. We are licensed in the State of California: Contractor's CSLB # 954931 and Appliances BEAR # 44874.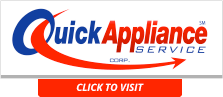 Quick Appliance Service Corporation is doing business as Quick Heating Cooling since December 04, 2012.
Mission Statement
Our certified technicians provide quality service to our local communities.
Our Commitment
Quick Heating Cooling provides high quality, prompt service. We strive to ensure customer satisfaction.
Our Goal
To have the knowledge to service your equipment correctly the first time.
Great Team
Quick Heating Cooling hires and employs the highest quality technicians in the HVAC industry. We are continually taking classes to stay current with changes in the industry.
Superior Service
Quick Heating Cooling takes great pride in providing top quality service. We will deliver the best care to your Heating and Air Conditioning. Our quality services include:
Live Operators
Radio Search
1 hour appointment window
Technicians call before arriving to your home
Technicians arrive for appointments on time!
Technicians wear company uniforms
All technicians are certified
Technicians wear cover shoes
All services done on your premesis
Stocked vans carrying the most common parts
Full warranty on all jobs
Senior Discounts
Safety is our #1 priority!
Customer Satisfaction